(Solved) : Create Ais Database Company Use Information First Paragrapghs Complete Tasks Last Paragrap Q36572779 . . .
$9.00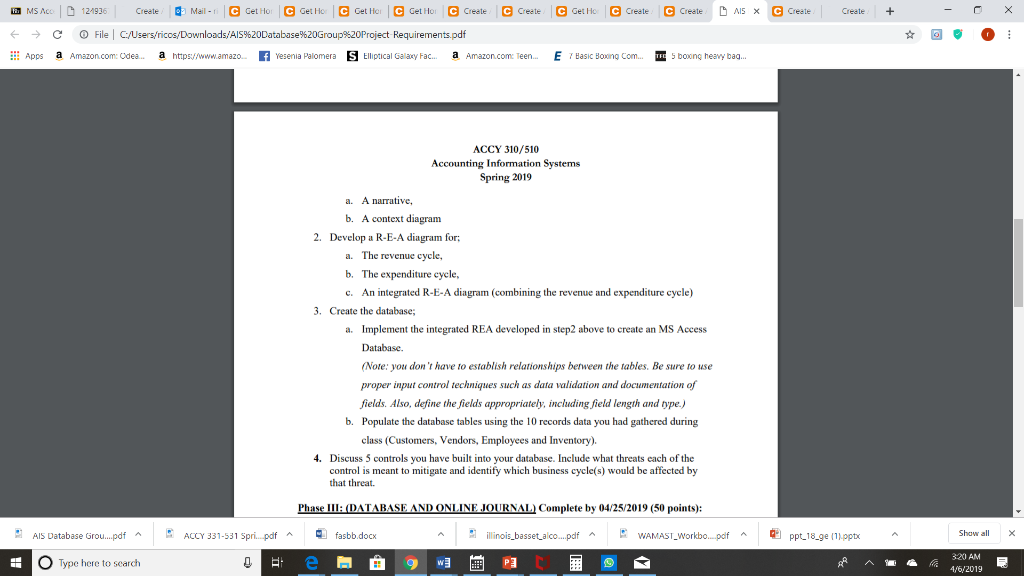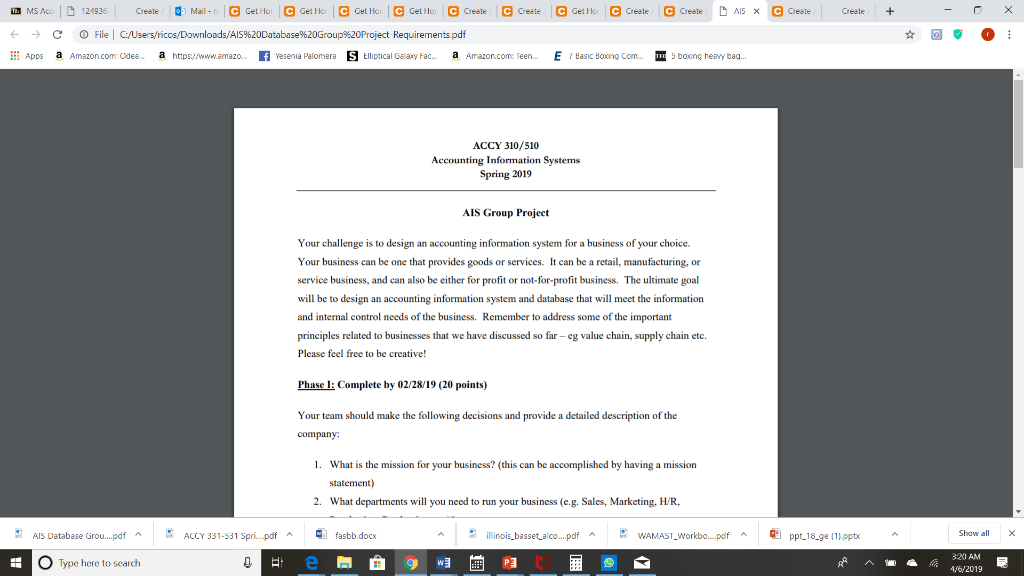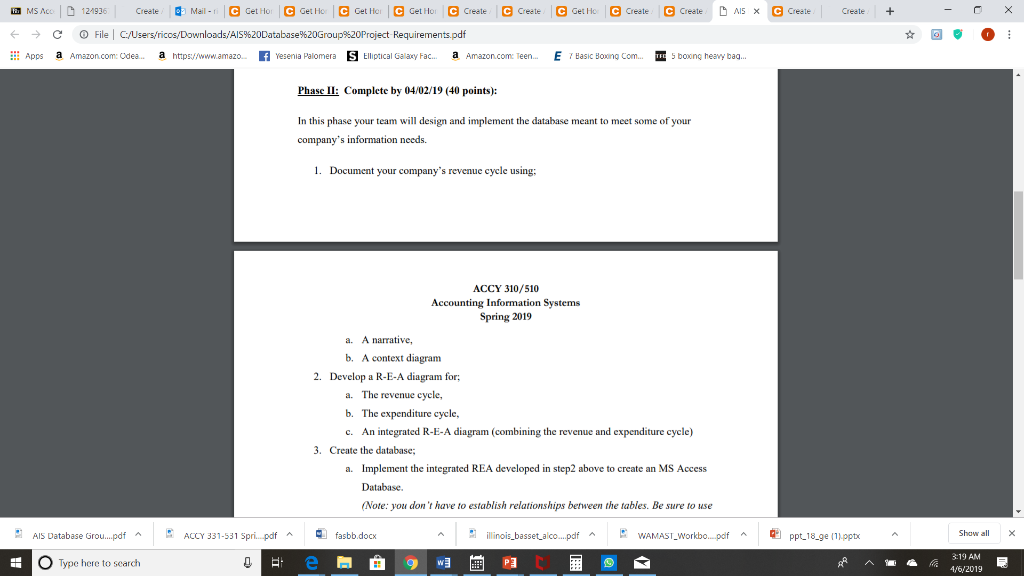 Create AIS database for a company .use the informationon the first few paragrapghs to complete the tasks on the lastparagraph . You can make up the names and other info. this is amade up company.
Fred's Burgers and Shakes
This business is a restaurant located at Big 4 Accountingfirms in downtown Chicago. The company provides food and beveragesfor the employees at the Big 4.
The mission of Fred's Burgers and Shakes is to providefresh, healthy, organic food and beverages while providing top ofthe line customer satisfaction. We supply these items in times ofdistress when workers need a convenient/high quality foodservice.
Our business processes include:
Acquire food and beverages by bulk
HR – Training of employees.
R&D – incorporating new recipes and items
Hiring cooks which are to be trained bymanagement
Hiring cashiers to take customer transactions
Management controls over: Inventory, shift organization,Accounts Payable, and payroll system. The same employee thatpurchased the inventory will not be able to put away the inventoryto help with internal controls
Will include a POS system called Aloha that will keep trackof all the cash transactions and will have the ability to forecastsales and revenue. Aloha will also be able to calculate labor rateefficiency.
If Labor rate is above 30% utilization of sales we willsend kitchen cooks home to maximize profits.
Payroll: this will include paying employees, paying thevendors, and paying taxes.
Semiannual meetings every 6 months to go over strategies tomaximize profits and improve internal controls. The meetings willconsist of sales figures, forecasts, and team buildingevents.
The various departments needed for small cafe would bekitchen department, purchasing department, billing departments andHR department.
Kitchen dept. would be required to prepare dishes andmaintain quality and taste of them along with cleaning of theequipment. The kitchen will be kept up to code with OSHA and everynight the floors will be mopped, grease traps cleaned, dishes allcleans as well as every item that is used throughout theday.
Cashier dept. would be in charge of ringing up customers toplace their purchases on their respective accounts. The cashierswill be fiscally responsible for their drawers and all cashreceipt. At the end of the night each drawer will be recounted andall transactions involving credit will be verified my the cashierand management to prevent cash mishandling. The drawers will be setback to $200 at the end of each shift with sufficient small bills($1, $5, and $10) bills.
Purchasing dept. would deal with purchasing of ingredientsand cook equipment. We will have a predetermined amount ofinventory that must be maintained. At the beginning of each shift aa prep list will be prepared and inventory counted.
Marketing dept. is comprised of a one person in-house team.Utilizing email and social media platforms to share informationabout current offerings/promotions/etc.
Billing department with whole accounting and billing ofcustomers. We will have many customer accounts with names attachedto each account. Every work station will have proper access to eachaccount so if an employee comes in and places an order we will lookup the account in the book and bill it to the proper account. Atthe end of each month we will send invoices to each company accountthat have outstanding balances.
HR department with the whole maintenance of staff membersviz. cook, chefs and waiters. The HR department will also make surethe staff is properly trained and before they start working. Thisdepartment will be working with all the other departments to makesure that they are working efficiently and to make sure they havekept up with all the laws that are required for OSHA. They willmake sure that the company is keeping up to date with the laborlaws and all the payroll expenditures. HR will be in charge ofkeeping records for the business accounting, employee informationrecords, and business licences to ensure everything is all up tocode to operate legally and efficiency.   
Customers will be the employees who work at the Big 4accounting firms who get food on their lunch break or afterwork.
List of suppliers and vendors include:
Local Chicago food supplier: vegetables, grains, variousmeats, etc
Coca-Cola sponsored beverages
Greco Foods – Food Supplies and Utensils
Our Business cycles include:
Revenue: Collecting revenue based off of food sales fromcustomers
Production: Receiving product, and storing food andbeverages. Disposing of expired product. Producing high qualityfood and beverage in a timely fashion in accordance with speccharts.
Expenditure: The efficiency of use of funds.
Human Resources: Is responsible for hiring/firing andbilling.
Management: Management is responsible for effectiveprocess.
Payroll cycle: Bi-weekly payroll strategy where employeesare paid on the same day every two weeks. Direct deposit will alsobe an option to avoid discrepancies within the accountingdepartment.
Financing cycle: Financing high-end equipment used in thekitchen with loans
Revenue Cycle: Narrative,
– This Accounting Information System (AIS) is one of the mostimportant business systems that will use modern technology to groupinformation and resources together with specific accountingcontrols that are in place that can create financial informationfor users so they can properly manage their organization orenterprise.
There are many different questions that should get answeredwithin the Revenue Cycle and we will be answering how our productswill be customized to individual customer needs and desires, howmuch inventory should be carried as well as where the inventorywill be located, how our goods will be delivered to our restaurant,explaining all the steps within getting the inventory, all theoptimal prices for each product we will be selling, extendingcredit to new customers and how much, also different credit termswill be offered, and how customers will process payments to beprocessed so our company can maximize cash flow.
Fred's Burgers and Shakes will be located within a buildingthat has the Big 4 companies within it. The restaurant will belocated at the lobby of the building so employees at each firm willcome to the lobby and purchase food. Customers will place theirorder at the restaurant and majority of the sales will be on creditbecause they will be employees of the big 4. We will then keeptrack of all sales and keep them recorded within our POS systemthat will contain customer master files. We will then bill the eachaccounting firm at the end of our period. We will be on a fiscalyear with 4 periods. At the end of each each month the customerwill be billed. If a new customer comes in and wants to make apurchase we can accommodate anyone that is not within the Big 4firms as well.
The first part of our database for the Revenue Cycle will beto
Capture all the data and processing information that happenwithin the business and all the activities involved.

Sales Order Entry

Taking the Customer's Order

Phone, in the store, web order, all electronicdata
Will use Vendor Managed Inventory

Checking and approving customer credit

Most of our transactions will involve credit sales thatshould be approved before processing
Customers will have some credit limits that must be paidand allow them to pay old credit sales.
We will have access to show the customer's creditlimit.
Majority of our customers will not need credit verificationbecause they are very prestigious companies that make promptpayment.

Checking the inventory making sure it is available

Making sure we have enough inventory for the day is veryimportant.
Creating back orders if we don't have enoughinventory.
Once order is placed a ticket must be printed for thekitchen to prepare the food.
This will authorize access to inventory.
Inventory must be filled to meet the needs of each daysdemand and sales.

Responding to specific customer inquiries: Retainingcustomers

Will use Customer Relationship Management (CRM) to supportour customers if they need large catering requirements.
We want to keep our customers so we will have amazingcustomer support.
We are going to use a POS system called Aloha that can havethe ability to link the inventory file to get projected salesestimates, inventory levels, and have access to match customermaster files for what they purchase. We will track each customer sowe can print customizable coupons for each sales receipt and sendthem "thank you" messages when they stop by.

Shipping is filling the customer order and making sure themerchandise is getting to the hands of each customer everyday.

We are a restaurant so there isn't much shipping involvedunless we are delivering to their office within the building Wewill be working with Uber Eats directly so we can have access to adelivery driver if it is needed to deliver the food to eachoffice.

Overall a staff member will be able to deliver large ordersor small to the office that is within the same building.

Billing

We will be using a cyclical billing cycle so all the salesthat occur on each account will be billed at the end of themonth

Each employee will be trained to use the system andfamiliarize with all of its functions.
Updating Accounts Receivable function uses all theinformation from each invoice to debit each customer accounts forcredit purchases and credit each customer accounts when the paymentis made.
We will be using an open-invoice method so customers (Big 4Accounting firms) just pay according to each invoice that theyreceive because of whatever their employees purchase. This willcreate an advantage to offer discounts for fast payments and eachinvoice can also be tracked and aged. This method will be very timeconsuming because of all the extra information for each customer.We will have the big 4 accounting firms as our main customers so itmight help with this problem by limiting the amount of differenttypes of customers.
A remittance advice is going to be required when eachcompany pays its invoice.
The Balance Forward will also be utilized so we can havecustomers pay according to the amount that is shown within eachmonthly statement.

Cash Collections

Our Cashier will be handling all the customer remittancesand will be required to deposit them in the bank
The remittance list will have every name of each customerremittances that will be sent to the accounts receivabledepartment.
Imaging technology can be used to help improve theefficiency of processing customer payments each period.
A Electronic Lockbox can be used so the customers can havequick payments. Electronic Funds Transfer will allow customers tosend their remittances electronically to the bank and willeliminate any delay within trying to receive thepayments.
Electronic Data Interchange will be a sophisticatedcomputerized communication to exchange business data electronicallyin order to process transactions.
Overall the main objective in the billing and accountsreceivable is to make sure that all the customers are billed forevery sale that took place that includes an invoice.

How to provide the customer with our product and all thelogistics to get our product in the hands of ourcustomer.
We will be providing many different types of controls thatensure our data is reliable and we need to be able to safeguard allour resources.
Complete these:
In this phase you will design and implement the database meantto meet some of your
company's information needs.
3. Create the database;
a. Implement the integrated REA developed in step2 above tocreate an MS Access
Database.
(Note: you don't have to establish relationships between thetables. Be sure to use
proper input control techniques such as data validation anddocumentation of
fields. Also, define the fields appropriately, including fieldlength and type.)
b. Populate the database tables using the 10 records data youhad gathered during
class (Customers, Vendors, Employees and Inventory).
Expert Answer
---
Attached
Description